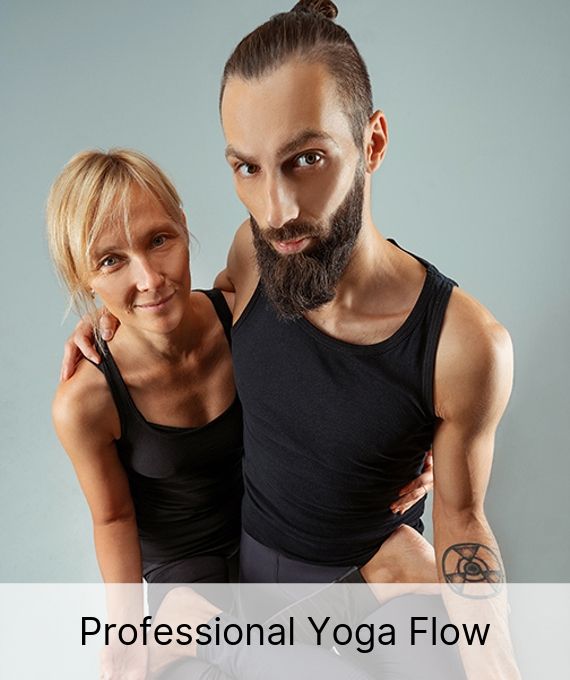 Valentina Malinovska and Igor Tkachov
Yoga teacher

Valentina Malinovska
Author and developer of Balance Yoga Method. She has been practicing yoga since 1992 and teaching it since 2003.
Valentina took part in the seminars of Kali Ray (Trai Yoga), Reinhard Gamenthaller (D. Brahmacharya School), David Svenson (Ashtanga Vinyasa), Peter Raisenen (Ashtanga Vinyasa), Sergiy Agapkina (Swastha Yoga), Shara Joyce (Ashtanga Vinyasa) Derby and Joan Pellier (Ashtanga Vinyasa).
Valentina had been studied and certified at the Moscow Ashtanga Yoga Center for the Standard International Yoga Federation (2008-2009).
She owns Certificate of yoga instructor of the Moscow Ashtanga Yoga Center, diploma of the International Yoga Federation, certificate of the teacher of Ashtanga Vinyasa Yoga (David Swenson).
She has undergone a teaching course with Mark Derby and Joan Pellet (2009 and 2011) twice.
Successfully trained and certified at the Institute for Traditional Wellness Systems (Moscow, 2010-2011). Qualification "Yoga Specialist".
Since 2011 Valentina has been an organizer and leading teacher of training courses for Hatha yoga trainers in Kharkiv and other cities of Ukraine.
Areas of Practice: Hatha Yoga, Yoga Therapy, Yoga for Pregnant Women. She conducts training in the Balance Yoga style.
Igor Tkachov
He has been practicing yoga since 2010 and teaching it since 2014. Prior to this, he devoted several years to martial arts and qigong. He learned yoga from Valentina Malinovskaya and Sergei Agapkin. Igor uses static and dynamic sequences in the Krishnamacharya tradition. Participates in the development of Balance Yoga training sequences.
Studies methods of modern physiotherapy of various internationally recognized schools and concepts PNF2, MWM sport, MWM B. Practices yoga.
Participant and headliner of various international yoga festivals: Gran Canaria Conference.