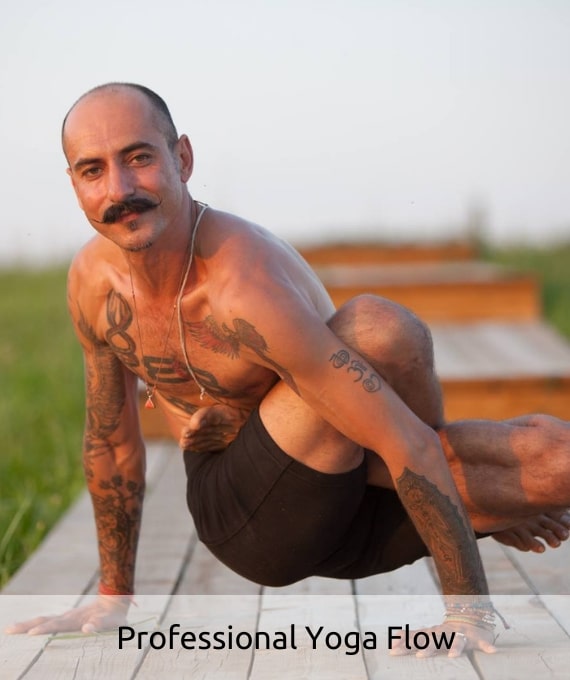 Ruslan Kleitman
Yoga teacher

Ruslan Kleytman
Ruslan Kleytman, ERYT 500, is a devoted yogi, gifted body worker, martial artist and avid acroyogi. Ruslan is a permanent student of Spirit, Life and Movement Arts. He traveled extensively the world in search of spiritual guidance and studied with prominent Masters in Ashrams and Monasteries in India and South Korea. On his spiritual path he met Swami Mrityunjaya Tirth, the master who initiated him through Shaktipat into the system of Siddha Yoga. The Tirtha lineage of Siddhayoga is a mystical sect of Shaivite Hinduism that relies on direct experience of "Life-force" (Kundalini Shakti) and understanding of Tantric scriptures (shastras).
Over a decade of Ruslan's physical yoga practice, internal work of meditation and scriptural studies came to fruition with synthesis of Akhila Yoga system. This method embraces a holistic, scientific approach to yoga; by working on harmonizing, balancing, healing and strengthening all levels of being; physical, energetic, emotional, intellectual and spiritual.
Description Akhila Yoga Method is a systematic approach to spiritual evolution based on the key principles of classical yoga. Akhila Yoga is an open, organic, ever changing, adaptive, scientific method rooted in Vedic tradion and Wisdom. All facets of practice are explored to create a holistic experience. All classical arsenal of asanas (poses), pranayamas (breath-energy work), mudras (hands, feet and body positions), bandhas (energetic locks) and meditation techniques (sense withdrawal, concentration, absorption…) are used to create a complex web of influences on conciseness to facilitate psychic — emotional state conducive to spiritual development. From class to class practice might change from dynamic to slow-meditative, strength oriented to fluid, playful to focused. Our daily goals in practice change depending on a time of day, season, mental and physical state… etc. – so does the practice. One thing in this Universe is certain – it is changing. And to surf the current of life we need to change alongside with it. • Akhila YOGA encourages: • search for truth • awareness • self-inquiry • internal exploration • personal responsibility • and emphasizes peace, love, connection All levels welcome 90 minute class.