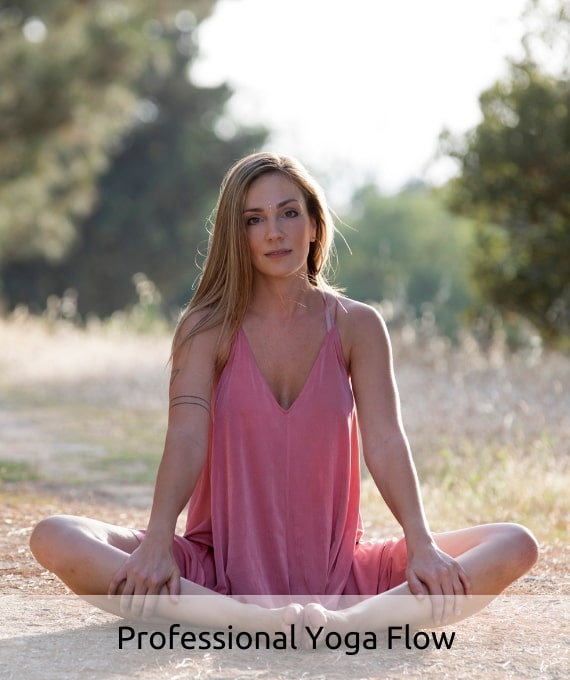 Elena Mouratidou
Yoga teacher
Elena Mouratidou
Anahata Yoga Studio CEO & Founder
Yoga Teacher | Yoga Trainer | Holistic Healing Coach
Workshops + Retreats Facilitator | Healing Circles Leader
Elena Mouratidou is a Certified Yoga Teacher and Holistic Healing Coach by Dharma Yoga Center (NYC), Jamtse School of Yin Yoga (USA), Bihar Yoga Bharati Institute (India), YogaLondon (UK), Inner Paradise School (Sri Andrei Ram) and Yoga Alliance E-RYT® 500, YACEP®. With more than 5000 hours of Spiritual Energy Medicine and Yoga Teachers Trainings beside the most inspiring teachers from all around the world, Elena became a Yoga Sannyasin (BYB, India) and, for more than a decade she follows a holistic lifestyle through Yoga and Healing practices.
Elena is the Founder of Anahata Yoga Studio and Intuitive Healing School, a place where Western Yoga meets Eastern Spiritual Medicine practices and empowers a holistic approach for healthcare. She was initiated in Spiritual Healing Practices and Fire Ceremonies rituals from the Indigenous and Native Americas Cultures, a path that she continues to follow with love and devotion. In 2018, Elena became a proud mama of her daughter, Iris. Through her own transformation, she is leading Healing Circles and offers a variety of Holistic Healing Trainings and Mentorship. As a female guardian, she is training women to step into their power and manifest the life that their heart desire.
Determined for a holistic lifestyle, she is following the Ayurvedic Healing Course under the supervision of the American Institute of Vedic Studies and Dr. David Frawley, a world-renown Hindu teacher (Acharya) and author.  Besides, Elena immersed herself as a Dance Therapy Facilitator through sacred rituals, archetypes and myths well as in spiritual chanting, sound healing and Indian music courses under the guidance of well-known sound teachers and musicians. She has followed the Training of Non-Violent Communication and a different trainings in the Neuroscience Field.
Teacher's teacher for many students globally, Elena keeps traveling extensively to coordinate and teach 200hr and 500hr Yoga Alliance® Trainings, Holistic Lifestyle Retreats, Inner Healing Practices, Women Empowerment Circles and Self Awareness Courses, Immersions and Workshops.
Teaching Yoga and Holistic Healing for Elena means sharing life, riding the waves, rising in Love. Her teaching approach is a result of her own transformation; a powerful blend of Classical Hatha-Raja Yoga science, Taoism, Shamanism and Sound and Fire Healing rituals, as a holistic path to inner happiness and harmony with the flow of life. Elena strongly believes that through our inner healing, we can reach the Highest Level of Consciousness so that we become Guardians of the Light and transform the downside of the world forever.
Her teachings are an offering to the Sacred Feminine, the Divine Mother, Pacha Mama.
Workshops Elena Mouratidou for CYF2020
Journey into the Soul: Intuitive Flow Yoga Workshop
Are you ready to take yourself on a journey back into the roots of our Existence? We are the creators of our own life. We are who we choose to be. Let's choose wisely.
During this 2hour workshop, we will to reconnect with the Wild Nature of our own existence for the healing purposes of our internal landscape and the healing of Mother Earth, Pachamama. We will tune-in with what it really matters to us by choosing to grow and evolve as Holistic Beings of Love.
Ancient Yoga Wisdom, Sacred Ecstatic Dance and Healing Techiniques from the Shamanic Tradition, Yin Yoga, Creative Flow, Powerful Breathing Kriya, Mantra Rituals, Mindfulness Meditation,  are some of the techniques that we are going to use to serve our purpose.
Mind, Mind, Spirit in Metta.
This workshop is open for everyone who feels ready to lead his own life with courage and fearlessness.
Dharma Yoga Masterclass
The science of yoga through the eightfold path of Patanjali and the teachings of Sri Dharma Mittra as the path to the realization of our integrated entity.
The two-hour practice is dedicated to the openings of the pelvis and the hyperextensions of the spine. Through practices that aim at the release of our pelvis, softening our hips, we free ourselves from tensions accumulated in this area. The hyperextensions of the spine are the result of the 50 years offer of Yogi Sri Dharma Mittra in yoga, specializing in backbends. They help us maintain a healthy spine, giving us mobility, rejuvenation and connection to our spiritual heart.
For all levels of practitioners.
Healing Circle Ceremony
During these 2 hours, we will explore the Mythic World of Archetypes and the rich wisdom of our ancestors. We will all lead a sacred ceremony, in order to help each other, to be present into each other's healing and to offer the benefits to the everyone that is in need. This healing circle supports emotional and spiritual healing and uses a variety of techniques as Sacred Dance, Prayers and Native Healing practices.
Suitable for everyone.